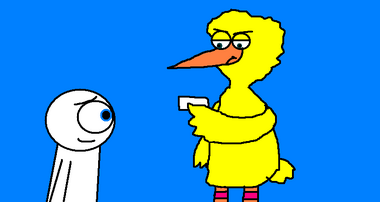 Big Bird is a protagonist of the children's television show Sesame Street. Big Bird, like many of the other Sesame Street characters, is a Muppet character. He is sometimes referred to simply as "Bird" by his friends. Officially performed by Caroll Spinney since 1969, he is an eight-foot two-inch tall bright yellow bird.
In "Black and White Coraline," Geo Guy was looking at his driver's license, then Big Bird was looking at it, he Dumps Geo Guy into the Hole. Then Geo Guy said "I wish I should get bigger and dump him out!"
In "Green Bob's Nightmares," Geo Guy asks about how he was dreaming about Big Bird chasing Geo Guy. Green Bob doesn't like him.
In "I Was in Super Paper Mario", Big Bird helps the team. He knocks on the outhouse door and in there was a Pixl named Fleep. When Squirps is doing a "squinkle" he pees on a bush. Then he open the outhouse door and he screams.
In "Secrets of the Berry Juice", he appears as Big Brother Bird for no real reason.
He is voiced by Tom Kenny.
External links