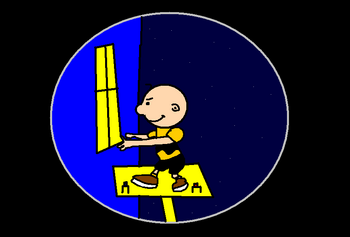 Charlie "Chuck" Brown is the main character from Charles Schulz's Peanuts cartoons.
Brown first appeared in "Camp Doctor Mother". When Geo Guy and his friends are looking at his house, Charlie was opening Geo Guy's Window, when he fell down.
In "Geo Guy Met Toothy's Dumb old World", Toothy groaned like Brown when the money clip was claimed. His face becoming nothing but a wide open mouth.
Charlie also appears in "See Through Your Eyes, Coraline", behaving abominably at the Peanuts reunion where his guest is a coarse crackwhore, whom he calls a skank. He breaks down in tears because Snoopy and Woodstock are now dead, the strong implication being that he had supplied the drugs which led to their demise. He claims that he doesn't care about Woodstock, but that Snoopy did not deserve it.
Ad blocker interference detected!
Wikia is a free-to-use site that makes money from advertising. We have a modified experience for viewers using ad blockers

Wikia is not accessible if you've made further modifications. Remove the custom ad blocker rule(s) and the page will load as expected.