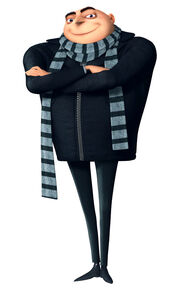 Felonius Gru, often referred to by his surname Gru, is the main character from Despicable Me and its sequel. He was a supervillain and jelly manufacturer, and is now a consultant for the Anti-Villain League. He also appeared in some of the episodes of Geo's World. In Geoshea World, he is Red Puckett, Dave, Stuart, Bloo, and Toon Link's best friend.
Formerly the world's greatest villain, Gru has been ousted by Vector, who had stolen the Pyramid of Giza and been bestowed the honor of pulling off the "crime of the century". In response, Gru unveils his plan for an even more impressive crime; the theft of the Moon. When his plans are interrupted by Vector, Gru becomes the adoptive father of three girls: Margo, Edith, and Agnes.
Originally intending to use the trio as pawns for his scheme to steal the moon, Gru ends up warming up to the girls. Even though he is successful in snatching the moon, Gru chooses to give it up when he hears his adopted daughters have been kidnapped and proceeds to rescue the trio from Vector.
In the process the moon is accidentally returned to its orbit, impressing the Anti-Villain League enough that Gru is soon recruited to stop the thief of the PX-41 mutagen. Together with AVL agent Lucy Wilde, he attempts to track down the evasive El Macho. After the events of the mission, he becomes Lucy's husband.
Ad blocker interference detected!
Wikia is a free-to-use site that makes money from advertising. We have a modified experience for viewers using ad blockers

Wikia is not accessible if you've made further modifications. Remove the custom ad blocker rule(s) and the page will load as expected.