"I want Geo's World (comic) to have MORE!!!"

This page needs more information because of the Stub thing below!
"More ammo, hurry!"
This article is a stub. You can help Geo's World Wiki by expanding it as well as you can.
Geo's World
style="font-size: 90%;" align="center" colspan="2"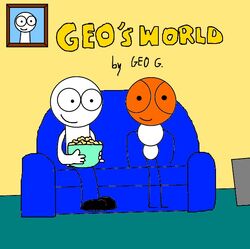 The cover of Geo's World, the first collection of comic strips, released in November 1985.
Author(s):
Geo G. (1981-2015)[1]
James Clayton and Terry Ward (2014-present)

Current status / schedule:
Running

Launch date:
July 9, 1981

End date:
ongoing

Syndicate(s):
Universal Press Syndicate

Publisher(s):
Andrews McMeel Publishing (1981-2014)
Omegalpha Comics/Vulgaris Entertainment (2014-)

Genre(s):
Humor, family life, politics, satire,family favorite

Geo's World is a comic strip created by Geo G. on July 9, 1981 in over 200 newspapers and has since become popular worldwide and received multiple awards. The show had episodes inspired from the comic. A spinoff comic series was made based on the Geo's Universe series, and features strips based on episodes of that series.

Books
Main article: List of comic books
References
↑

Geo G starting a new comic series
Ad blocker interference detected!
Wikia is a free-to-use site that makes money from advertising. We have a modified experience for viewers using ad blockers

Wikia is not accessible if you've made further modifications. Remove the custom ad blocker rule(s) and the page will load as expected.