This article is about Lisa Simpson. For other uses, see Lisa (disambiguation).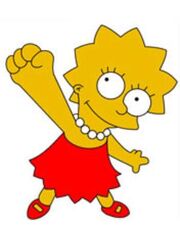 Lisa Marie Simpson is a fictional main character in the animated television series The Simpsons. She is Green Bob's ex-girlfriend and a strict vegetarian. She is noted for her extreme liberal and environmentalist political actions such as freeing 50,000 live crickets in the school to spare them from dissection. (for which Geo Guy and Green Bob got detentions of which Liz was not informed.) Lisa has called Geo Guy "flesh eater", "vampire", "murderer" and "cannibal" for eating meat. She first appears in Meat is Murder.
External Links
Ad blocker interference detected!
Wikia is a free-to-use site that makes money from advertising. We have a modified experience for viewers using ad blockers

Wikia is not accessible if you've made further modifications. Remove the custom ad blocker rule(s) and the page will load as expected.