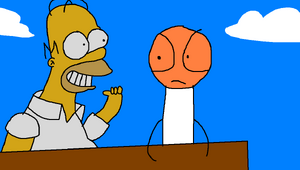 The Simpsons is an American animated television series created by Matt Groening for the Fox Broadcasting Company. The series is a satirical parody of a working-class American lifestyle epitomized by its eponymous family, which consists of Homer, Marge, Bart, Lisa, and Maggie. The show is set in the fictional city of Springfield, and lampoons American culture, society, television and many aspects of the human condition.
The family was conceived by Groening shortly before a pitch for a series of animated shorts with the producer James L. Brooks. Groening created a dysfunctional family and named the characters after members of his own family, substituting Bart for his own name. The shorts became a part of Tracey Ullman Show on April 19, 1987. After a three-season run, the sketch was developed into a half-hour prime time show and was an early hit for Fox, becoming the first Fox series to land in the Top 30 ratings in a season (1989–1990).
Dr. PBS mentions the Lost Simpsons episode "Dead Bart" in "Door on a Men".
In "Geo Guy's Midnight Sleep" Geo Guy Says Goodbye to Silly Guy Bart Simpson with a Shotgun. Bart was Shooting Doctor with his Shotgun After Doctor Exploded.
In "Take Seven", Dr. Beanson mentions Dr. Mother selling out. The resulting flashback parodies the Butterfinger commercials The Simpsons did in the early 1990s. Dr. Mother says Bart Simpson's catchphrase from the commercials, "Nobody better lay a finger on my Butterfinger," before adding a forced "D'oh!".
In a DVD exclusive song in "Meet the Joneies" called Got a Friend List, one of the "society offenders" on Coraline's list is "Gree Guy who watched The Simpsons back in 1991 and won't admit the dang thing isn't funny anymore".
Homer appears as an worker in "Sloppy on the 123" while he calls Yoshi for going crazy.
Geo Guy called Something I Want You the next Simpsons during his pitch to Peter Chernin in "Crazy".
The font used for Simpsons credits is used for the executive producers of "Coraline My Dear".
Geo Guy's yellow color and remarking that he could go on for twenty more years in "The Super Geo's World Clip Show" is a reference to The Simpsons.
Homer appears in a cameo in "Geo Guy Gets an Lion" while Geo Guy is getting his lion.
External Links
Ad blocker interference detected!
Wikia is a free-to-use site that makes money from advertising. We have a modified experience for viewers using ad blockers

Wikia is not accessible if you've made further modifications. Remove the custom ad blocker rule(s) and the page will load as expected.