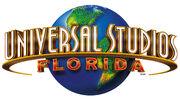 Universal Studios Florida is a theme park located in Orlando, Florida. Opened on June 7, 1990, the park's theme is the entertainment industry, in particular movies and television. Universal Studios Florida inspires its guests to "ride the movies", and it features numerous attractions and live shows. The park is one component of the larger Universal Orlando Resort.
In 2010, the park hosted an estimated 5.9 million guests, ranking it the eighth-most visited theme park in the United States.
Geo Guy's Bus Tour was opened in 1998 and closed in 2004. A spin-off attraction titled Meet Geo Guy and Friends is located at the Florida venue.
Ad blocker interference detected!
Wikia is a free-to-use site that makes money from advertising. We have a modified experience for viewers using ad blockers

Wikia is not accessible if you've made further modifications. Remove the custom ad blocker rule(s) and the page will load as expected.